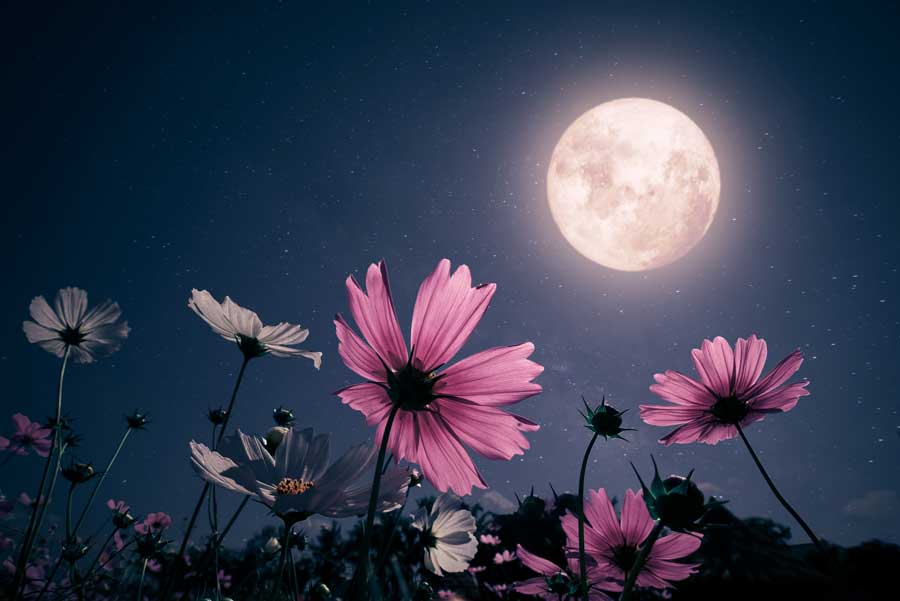 At Prime Custom Builders, we build our homes on lots that give you the space to grow. If growing things on that lot in the form of flowers or gardens is important to you, it is important to us as well. Most people associate gardens with sunshine, but there are ways to enjoy a garden well into the evening. By creating a moon garden, or a garden that shines at night, you can enjoy a unique landscaping experience. Here is how to create one.
What Even Is a Moon Garden?
If the idea of a moon garden is a new concept to you, let us explain. A moon garden at its core is a space that is specifically meant to be enjoyed at night. Some ways to do that is by planting night blooming flowers or flowers or foliage that reflect off the light of the moon. Things like white or silver foliage are ideal for this. You can add other elements that enhance the theme of this type of garden. Reflective decor, soothing water features, and things like this lend well to the vibe. Your moon garden should be set up in a place that can be enjoyed wherever you like to enjoy your evenings most. Whether that be your patio, deck, or garden path, make sure that your moon garden can be viewed from that space.
Foliage and Flower Recommendations
So, where to start? Night blooming flowers are an obvious choice. For a fragrant bloom, treat yourself to night blooming jasmine. Night phlox is shy during the day, but these dainty, delicate flowers really shine at night. For a bold flower, try your hand at the casa blanca lily. Also, a night blooming variety, these big, bright white flowers are like beautiful beacons in the moonlight. Another sweet, dainty flower to add to your garden is evening primrose. These little yellow flowers may be small, but they make a big impact in a moon garden.
To fill out your garden with more variety, you need complimentary foliage. Woodworm might not have the most appealing name, but its powdery white, lacy leaves make it a welcome addition to any night centric garden. White and green variegated foliage also fits in nicely with a moon garden. Try sourcing deadnettle or variegated dogwoods for a robust and well-rounded moon garden scene.
The flowers and foliage are the main event in a moon garden, but a few light-colored stones or reflective garden orbs can do well to compliment the scene as well. No matter what, let your moon garden encourage you to enjoy more time outside during the crisp, cool evenings.
By Prime Custom Builders 3-23-2023